The Best Blue Prom Suits and Tuxedos for 2024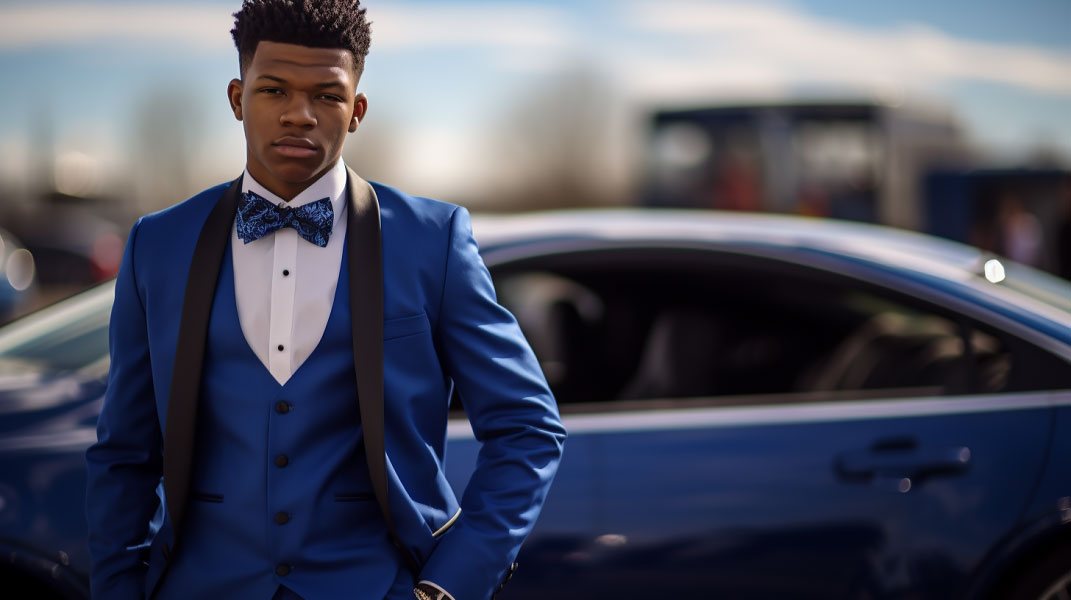 Prom season is here, and if you're looking to make a statement, you're in the right place. At Perfect Tux, we're your ultimate destination for jaw-dropping prom outfits. We're shining the spotlight on blue prom suits and tuxedos that are guaranteed to turn heads. Blue is a timeless color, and with many girls choosing blue dresses, you'll stand out as a power couple. If you're all about style and making a statement, follow us - we'll make sure you're the best dressed at prom.
And yes, we know that matching your date's dress is key. So, whether you're going for the full match or a subtle complement, we've got you covered.
Understanding the Basics: Suit vs. Tuxedo
Before diving into the world of blue prom attire, let's get the basics straight. Suits and tuxedos might seem similar, but they have their own unique vibes. A suit is a versatile choice, perfect for various occasions. On the other hand, a tuxedo, with its satin lapel and details, takes things up a notch with its formal elegance. Whether you're leaning towards classic sophistication or a more daring statement, knowing the difference is crucial.
Blue Prom Suits: Worth The Investment
A blue suit isn't just for prom night - it's a versatile investment in your wardrobe. Consider it a style chameleon that adapts to any occasion. But let's dive deeper into what makes a blue suit truly exceptional.
A Great Fitting Suit: Your Style Foundation

Before we even talk about shades of blue, let's address the foundation - the fit. Picture this: a suit that hugs your frame perfectly, accentuating your features while allowing you to move effortlessly. That's the power of a well-fitted suit. When you slip into a suit that fits like it's made for you, you exude confidence that's unmatched. For prom, a well-fitted suit is your secret weapon.

Whether you lean towards a slim fit that contours to your body's lines or a modern fit that provides a touch more room while maintaining sharp lines, nailing the fit is non-negotiable. At Perfect Tux, we understand that each physique is unique. That's why our range of fits ensures that you're not just wearing a suit – you're wearing your statement.
Shades of Blue: Expressing Your Style
When it comes to blue prom suits, there's a spectrum of shades to choose from. From the classic allure of navy blue to the vibrant statement of royal blue, the subtlety of powder blue, the boldness of electric blue, and the intriguing charm of midnight blue, each shade offers a unique opportunity to express your personal style and stand out on your prom night.
Stepping Up: Blue Prom Tuxedos
When you're aiming for the height of style and formality, a blue prom tuxedo is your go-to. Take your pick from our curated selection:

Solid Blue Prom Tuxedo: Why blend in when you can stand out? A solid blue tuxedo is a bold choice that oozes confidence. Perfect for those who dare to be different.


Pattern Prom Tuxedo: Floral patterns are all the rage this year. Make heads turn with a patterned tuxedo that radiates personality and charm.


Prom Tuxedo Jackets or Blazers: A tuxedo jacket or blazer paired with black pants strikes the perfect balance between formal and stylish. It's a versatile choice that lets you express yourself.
Prom Tips: Don't Wait Too Long
Don't wait until the last minute to secure your dream prom look. At Perfect Tux, our styles fly off the shelves. If your prom is in May, order in advance to ensure you snag the perfect outfit. Fashion waits for no one, and what you see today might be gone tomorrow. So, plan smart, and act fast to secure your spot as the prom style icon.
The bottom line: In the whirlwind of prom preparations, your outfit should be the least of your worries. With Perfect Tux, you're not just getting a suit or tuxedo – you're getting a confidence boost. Blue is your canvas, and we're here to help you paint a masterpiece. Whether you're matching head-to-toe or adding a dash of blue, we've got the styles that will make you shine. Your prom night will be a red-carpet moment, and with the right blue attire, you're destined to steal the spotlight.