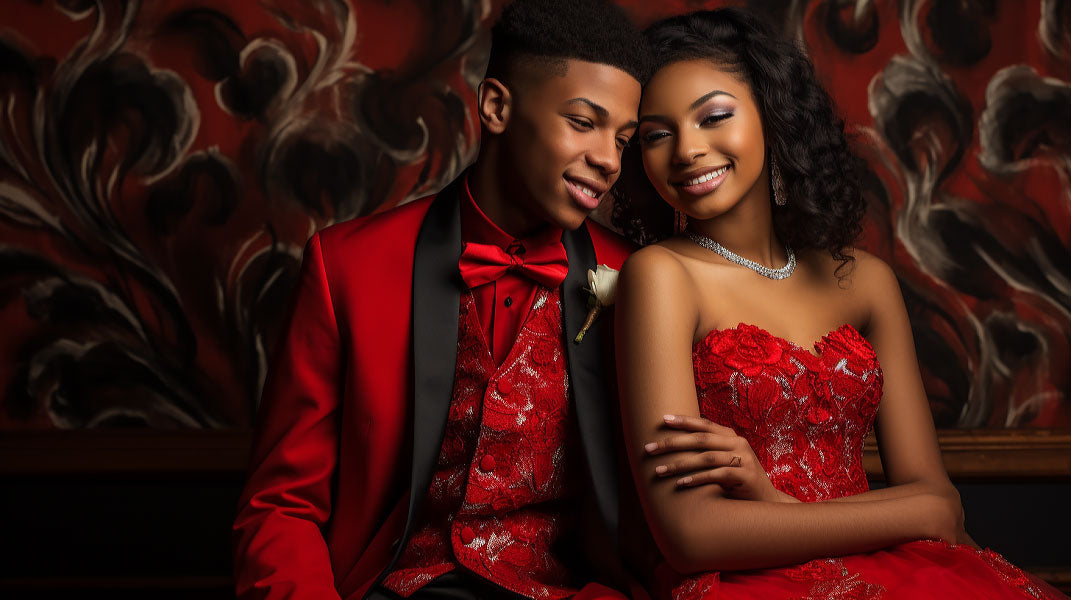 Prom season is here, and if you're looking to make a splash on the dance floor, you've come to the right place. At Perfect Tux, we're all about turning heads and setting trends. In this blog, we're unveiling the top 10 prom trends for guys in 2024. Get ready to step up your style game and shine like never before. Let's go!
Pattern Jackets: Making a Statement
If blending in isn't your vibe, then patterned jackets are your secret weapon this year. For prom in 2024, patterned tuxedos are stealing the spotlight, offering a unique and captivating twist to those traditional looks. From classic paisley to daring geometrics, our collection is all about setting you apart. Whether it's a patterned tuxedo jacket or a complete set, get ready to own that prom night in style.
Velvet Tuxedo Jacket: Embrace Luxe Vibes
Velvet isn't just for the red carpet anymore – it's the ultimate symbol of luxury and sophistication. Choose from black, blue, green, or maroon velvet blazers. Pair them with a crisp white shirt and bow tie for a classic touch, or go bold with a black turtleneck. No matter your choice, a velvet tuxedo jacket is your ticket to turning heads.
Fashion Loafers: Effortlessly Stylish Kicks
Shoes speak volumes, and when it comes to prom, versatility is your best friend. Introducing fashion loafers – the sweet spot between comfort and style. With a range of colors and materials like velvet or suede, finding your perfect match is a breeze. This year, the black velvet loafer with a paisley design is the standout choice for prom night.
Ankle Showing Look: Flaunt Your Confidence
Ready to flaunt those ankles? The ankle showing trend is making waves, adding an extra layer of flair to your look. How much ankle to reveal? Well, that's your call. Start with an inch – a subtle yet impactful detail. Most dress pants won't come tailored like this, so a trip to the tailor is essential. Slim down those pants for a sleek look that sets you apart.
Wide Lapels: Vintage with a Twist
Vintage vibes are making a comeback, and wide lapels are leading the charge. These lapels create a balanced and proportionate appearance, making them a perfect choice for different body types. Stand tall and radiate confidence with this bold yet timeless style.
Bold Colors: Express Your Personality
Prom is your stage, and bold colors are your paint. The trend of 2024 embraces vibrant hues that scream individuality. With proms shining in the spring, it's the perfect moment to embrace pastels and bright shades. Make a statement and own that spotlight.
All Satin: Luxurious Elegance
Satin usually graces lapels and stripes, but it's time to break the norm. The all-satin tuxedo is a trend we absolutely adore. Turn heads with this luxurious choice that radiates sophistication. From lapels to pants, let satin define your prom style.
Same Colored Pants: Rewrite the Rulebook
Tradition says black pants, but we're here to rewrite the rules. Matching your jacket and pants is a bold move that's shaking things up. Green with green, red with red, or even a patterned jacket with matching patterned pants – it's about pushing boundaries that the average prom-goer wouldn't.
Wearing a Bow Tie: Timeless Elegance
A bow tie adds an air of elegance that's hard to beat. It might not be your daily go-to, but for prom night, it's the ultimate finishing touch. Opt for a classic bow tie or rock a dapper oversized version – either way, you'll steal the spotlight.
Men's Jewelry: All in the Details
Complete your look with accessories that pop. Whether you're aiming for subtle sophistication or making a bold statement, details like cufflinks and tie chains are the extra edge you need. Elevate your ensemble and stand out with these personalized touches.