2024 Prom Suit Guide: What To Wear To Prom For Guys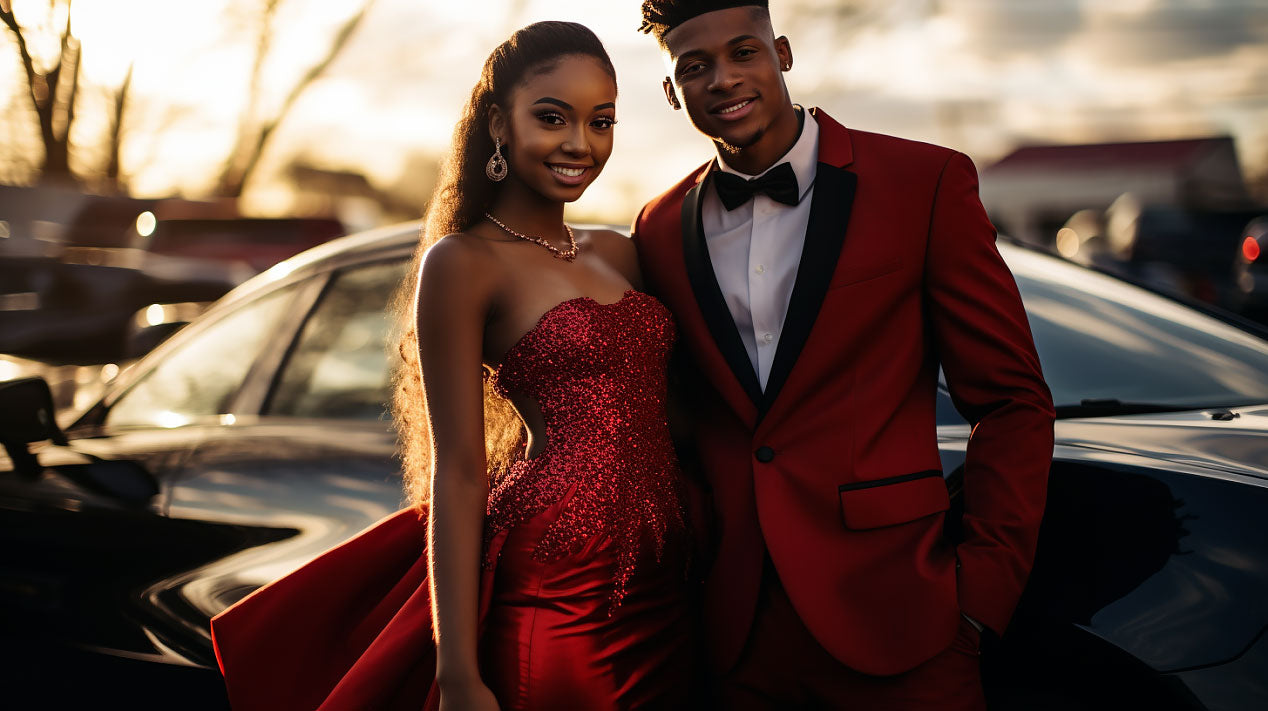 Prom 2024 is just around the corner, and it's time to shine! As the leading online site for prom outfits, Perfect Tux is here to be your ultimate style guide. Whether you're a first-time suit wearer or a fashion-forward trendsetter, we've got you covered. Prom is the grandest high school event, and we're speaking directly to the guys who are all about style and looking their best. No boring attire here—everything is about being modern, stylish, and fun. Say goodbye to polos and t-shirts; it's time to step up your game. Get ready to be the best-dressed guy at prom!
What's the Deal with Suits and Tuxedos? What's the difference?
Before we dive into the prom outfit options, let's get familiar with the essentials. What exactly is a tuxedo, and how does it differ from a suit? A tuxedo, with its satin lapels and distinctive elegance, is the epitome of formal attire. On the other hand, suits boast a more versatile and classic charm, making them a smart investment for various occasions. But here's the twist - a tuxedo jacket or blazer can be paired with black suit or tuxedo pants for a modern and sophisticated look. Choose the perfect outfit that aligns with your personal style and sets the tone for an unforgettable night.

Prom Suits – Slay with Style!
Prom suits are the essence of timeless style and a go-to choice for many prom-goers. Beyond the glitz and glamour of prom night, suits offer the advantage of being versatile enough for future events, including graduation, college, and job interviews. Let's dive into two exciting sub-sections that will elevate your prom style to the next level:


Swag with Slim Fit Suits: Listen up, you don't wanna mess with baggy suits. Go for slim fit prom suits – that's the key to lookin' sharp and turning heads. It's all about that tailored fit that makes you stand out from the crowd. Trust us; this is how you become the prom king! The tailored cut narrows through the waist, chest, and hips, providing a contemporary and stylish look that sets you apart from the crowd. Perfect Tux offers a head turning collection of slim fit prom suits that promise an perfect fit and unbeatable style. When you look good, you feel good, and with a slim fit suit, you're guaranteed to own the night.


Stand Out with Colored Suits: Prom is a celebration of style, and what better way to make a statement than with a colored suit that reflects your personality? Ditch the conventional black and gray and step into the world of vibrant colors that add flair to your prom outfit. Solid color suits are an excellent choice for prom-goers who want to stand out and complement their date's dress effortlessly. At Perfect Tux, we have an extensive range of colors to choose from, including Red, Burgundy, Emerald, Light Blue, and Pink or Mauve. So, whether you're looking to match your date's outfit or express your individuality, colored suits are a fantastic option for a show-stopping look at Prom 2024.

Prom Tuxedos - Step Up Your Tuxedo Game!
Who said tuxedos gotta be black and white? Not us! 2024 is all about stepping out of the box. Step away from the mundane and embrace the charm of patterned tuxedos like paisley and florals. Perfect Tux presents an awe-inspiring collection of Gold, Burgundy, Red, and Ivory tuxedos that redefine elegance. Elevate your look with a striking shawl lapel or patterned jacket that is sure to turn heads. To complement the evening's magic, our tuxedo sets come with matching vests and ties - the perfect addition to keep you fashionable and comfortable throughout the night.
Flex with Prom Blazers & Tuxedo Jackets
Alright, now we're talkin' fresh and versatile. Prom blazers and tuxedo jackets are your ticket to stand out from the crowd. For prom 2024, our top choice is our Aqua Floral Blazer. You are guaranteed to turn heads with this eye-catching piece. This floral blazer also comes in red, pink, and silver - which are also top colors for the season. Pair your blazer with solid dress pants for a sophisticated yet contemporary look. Our blazer collection features many colors and patterns to choose from, so you'll be able to match your date no matter their dress color.
Rent or Own? No Contest!
Everything we sell at Perfect Tux is for purchase, and there are several reasons why it makes more sense to own your prom outfit. Firstly, we offer fashion styles that you can't rent anywhere, ensuring you stand out and make a statement at prom. Secondly, buying your outfit can be cost-effective in the long run compared to renting, and you'll have the flexibility to tailor your suit or tuxedo to your perfect fit. So why settle for a one-time rental when you can own a fashionable prom outfit that fits you perfectly?
Prom Tips - Plan Ahead and Tailor
Don't wait until the last minute! Since Perfect Tux is the #1 prom suit destination, our fashion styles go fast. To avoid disappointment, order your prom outfit a month or two in advance. Our fashion styles are in high demand and can sell out quickly, so plan ahead and act fast to secure your dream prom look.
Visit our Match the Dress page for inspiration on how to match your date's dress color. This helpful tool will guide you in finding the perfect suit or tuxedo that complements your date's outfit seamlessly.
Once your outfit arrives, take the time to visit a local tailor to hem your pants to the proper length and make any necessary adjustments for your perfect fit. Tailoring is where you can truly customize your outfit to suit your style and preferences. From the ankle-length pants look to the precise fit of your jacket, tailoring ensures you look and feel your best on prom night.
The bottom line: So there you have it, the ultimate guide to slayin' prom 2024. It's all about owning your style, taking risks, and being fashion-forward. Rock a slim fit suit or go all out with a bold tuxedo – the choice is yours.
With Perfect Tux by your side, you'll be the best dressed dude on the dance floor. So step up your game and own the night, prom king! You got this!