The Best Black Prom Suits and Tuxedos for 2024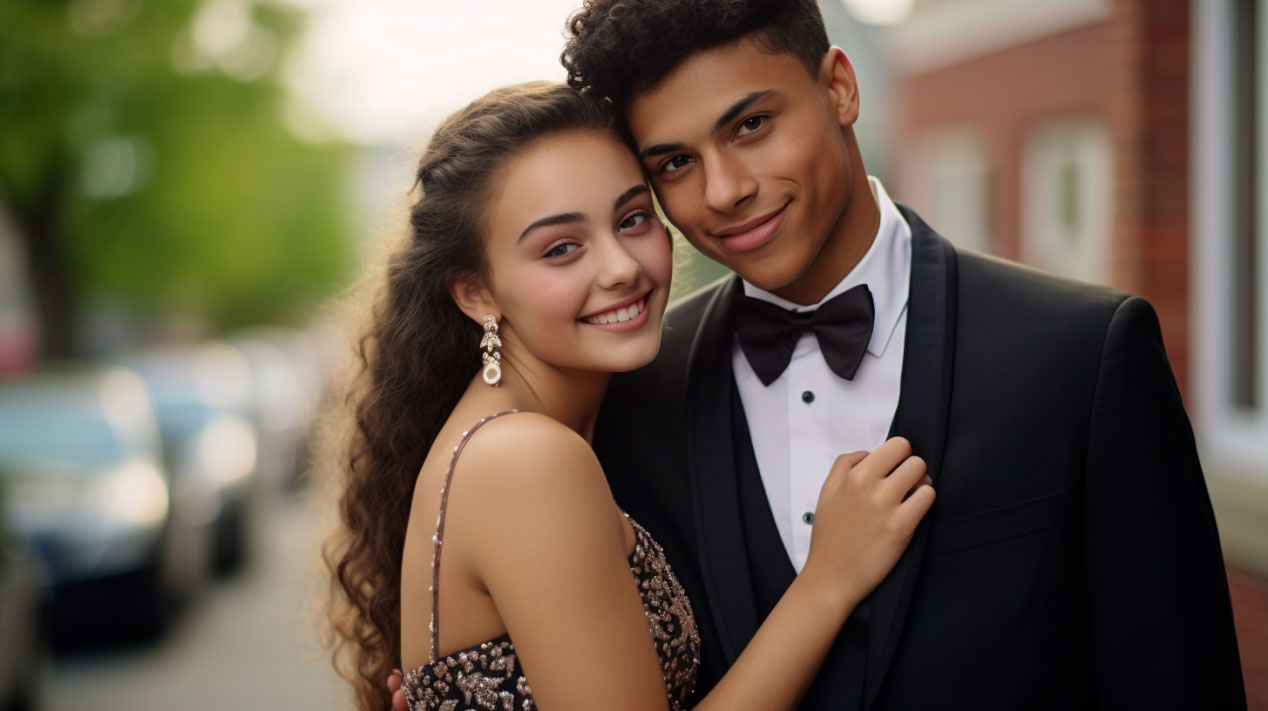 Get ready to step into the spotlight with our ultimate guide to the most stylish black prom suits and tuxedos of 2024. We're your ultimate source for making a standout statement on your big night. This year, we're all about helping you create a look that's uniquely you. From classic black suits to sleek tuxedos, we've got the styles that will set you apart. Let's dive into the world of dapper fashion and show you how to make your prom night truly unforgettable.
Black Suits: Rocking the Classic Look
When it comes to prom, a black suit is like a blank canvas that you can turn into a masterpiece. Here's how to make it your own:

The Perfect Fit: A well-fitted suit is your ultimate weapon. Baggy is out, sleek is in. Consider a slim or skinny fit suit that hugs your frame and accentuates your style. If you're after a bit more room, our modern fit suits got you covered. Remember, the fit is the foundation of your prom swagger.
It's All In The Details: A black suit doesn't mean dull. It's all about the nuances that set you apart. While notch lapels are common, why not go for peak lapels? They're a bold touch. Amp it up further with a double-breasted vest. Our black double-breasted suit, adorned with gold buttons, is a perfect example. These small elements make a big impact.
Black Tuxedos: A Splash of Elegance
Traditional black tuxedos? Yes, but with a twist. Here's how to step into the limelight:

Lapels That Command Attention: Alright, let's break it down. A lapel is basically that folded flap on the front of your suit jacket or tuxedo. Now, for the cool part: choosing the right lapel can totally level up your style game.


Shawl Lapels - Sleek and Smooth
First up, we've got shawl lapels. Imagine a lapel that's all smooth curves and elegance. It doesn't have those pointy notches – it's more like a continuous line that gracefully wraps around your jacket. Picture a red carpet look, and that's what a shawl lapel brings to your tuxedo. It's clean, it's modern, and it's perfect for when you want to rock a suave and sophisticated vibe.
Peak Lapels - Edgy and Bold
Then there's the peak lapel. Think of it as the "I'm here to slay" option. It's the one with those sharp, upward-pointing corners on your lapels. Peak lapels scream confidence and edginess. They're like the tuxedo's way of saying, "Yeah, I've got style and I'm not afraid to show it." These lapels add a touch of swagger and make a statement without saying a word.
So, when you're choosing lapels, think about the vibe you want to give off. Shawl lapels for a smooth operator look, and peak lapels for a bold and fearless entrance. Your lapels – your style, your choice.
Add Some Pattern: Let's take it up a notch – patterns are your secret weapon. Our tone-on-tone patterned tuxedos offer a subtle yet unforgettable twist. A carefully chosen floral or paisley pattern can spark conversations and make you the talk of the night.
Buying vs. Renting: Making the Smart Move
At Perfect Tux, we're all about empowering your style. Renting? That's a thing of the past. Our selection is packed with fashion-forward choices that you won't find at your local rental store. Embrace your style, because walking in a rented outfit isn't your vibe. Plus, buying can often be just as cost-effective as renting, making it a savvy investment in your wardrobe.
Prom Tips: Plan Ahead for a Flawless Night
Don't let prom sneak up on you. Our styles are in high demand and disappear quickly. Secure your standout outfit by placing your order a month or two in advance. These trendsetting pieces wait for no one, so act swiftly and be the early bird who catches the fashionable worm.
The bottom line: Your prom night is your moment to shine, and your outfit plays a pivotal role. Whether it's a black suit that molds to your form or a bold tuxedo that commands attention, Perfect Tux has your back. We're your partner in looking good and feeling confident, helping you seize the night with unparalleled style.