The Best Blue Wedding Suits and Tuxedos of 2024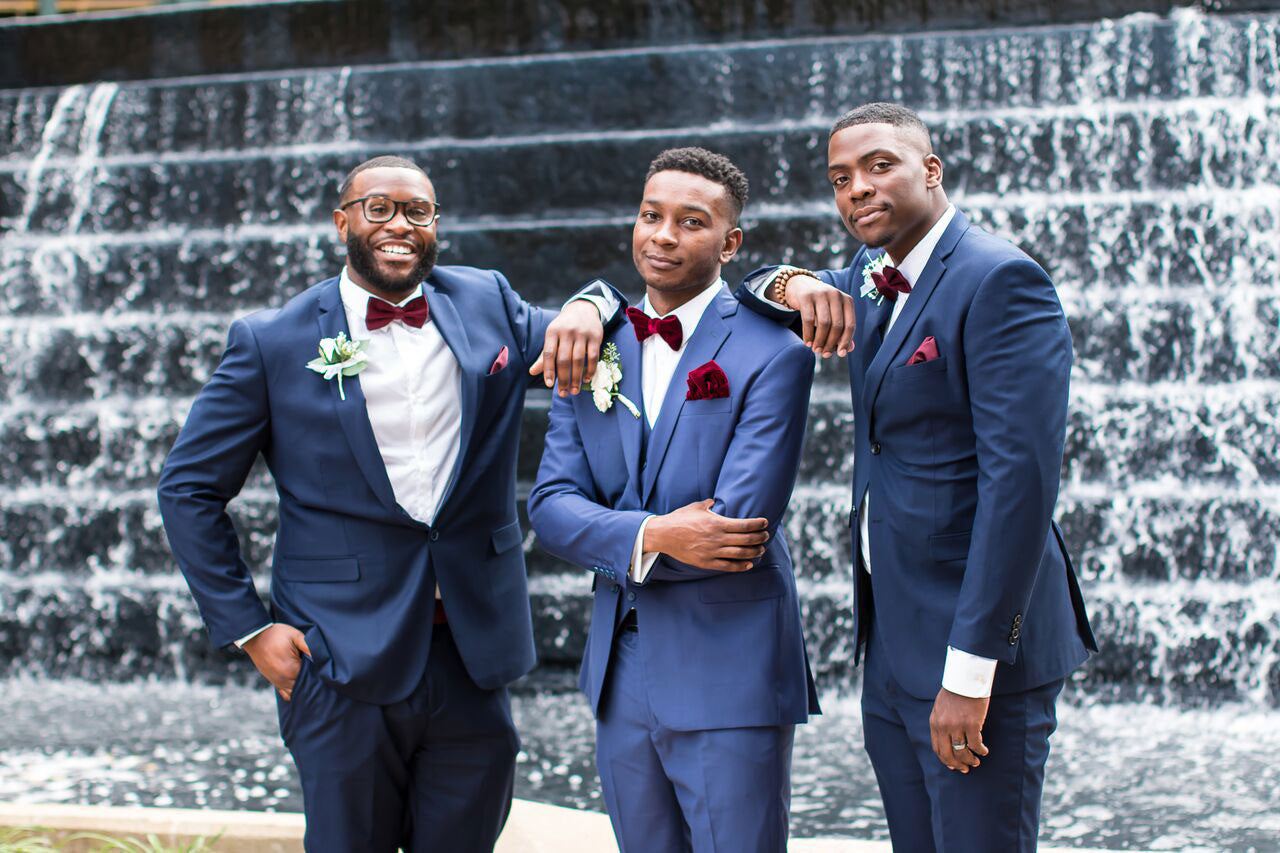 When it comes to weddings, blue is the color that effortlessly exudes charm and adds a dash of personality to your look. Gone are the days of traditional attire, as we invite you to explore the exciting world of blue wedding suits and tuxedos. Get ready to embrace a modern twist, where formal wear meets fun and fashion-forward choices.
Blue Wedding Suits: Timeless Elegance Meets Modern Charm
Let's break the mold and discover the range of blue wedding suits that will make you stand out from the crowd. From deep, sophisticated navy to vibrant shades, there's a blue hue that suits your style, season, and vibe. Let's explore two main options:
Navy Blue Wedding Suits: Imagine yourself rocking a navy blue suit that radiates confidence and contemporary charm. Perfect for any wedding setting, whether it's a classic affair or a trendy celebration, this versatile color ensures you're always at the forefront of style. Pair it with a crisp white shirt to maintain that effortlessly cool look.
Summer & Spring Blue Wedding Suits: As the sun shines and love fills the air, lighter shades of blue come to life, bringing a touch of playfulness to your wedding ensemble. Soft blues like sky blue and powder blue capture the essence of the season, allowing you to embrace a more relaxed and casual vibe. Mix and match with accessories to showcase your individuality.
Blue Wedding Tuxedos: Redefine Formalwear with Personal Flair
For the groom who dares to be different, blue wedding tuxedos are your secret weapon to make a bold statement. From sleek shawl lapels to eye-catching patterns, these tuxedos combine formal elegance with a touch of personal flair. Let's explore the variety of shades and patterns that will ensure you steal the spotlight.
Blue Tuxedo Jacket or Blazer: Elevate Your Style Game
When it comes to making a fashion statement, blue tuxedo jackets and blazers are the way to go. Break free from traditional norms and embrace the opportunity to showcase your unique style. Mix and match with complementary pieces to create a truly remarkable ensemble. Look for jackets that feature exciting color combinations like blue and gold, adding a touch of sophistication and modernity to your look. Also, consider a luxurious blue velvet jacket to inject that extra wow factor into your look.
The bottom line: At Perfect Tux, we encourage you to infuse your wedding attire with the vibrancy and playfulness of blue. Step away from the ordinary and embrace the extraordinary. Whether you opt for a classic navy suit or push the boundaries with a daring blue tuxedo, let your personality shine through and make a lasting impression on your special day. Get ready to redefine formal wear and make it a fun and stylish experience.