The Best Charcoal and Grey Wedding Suits and Tuxedos of 2024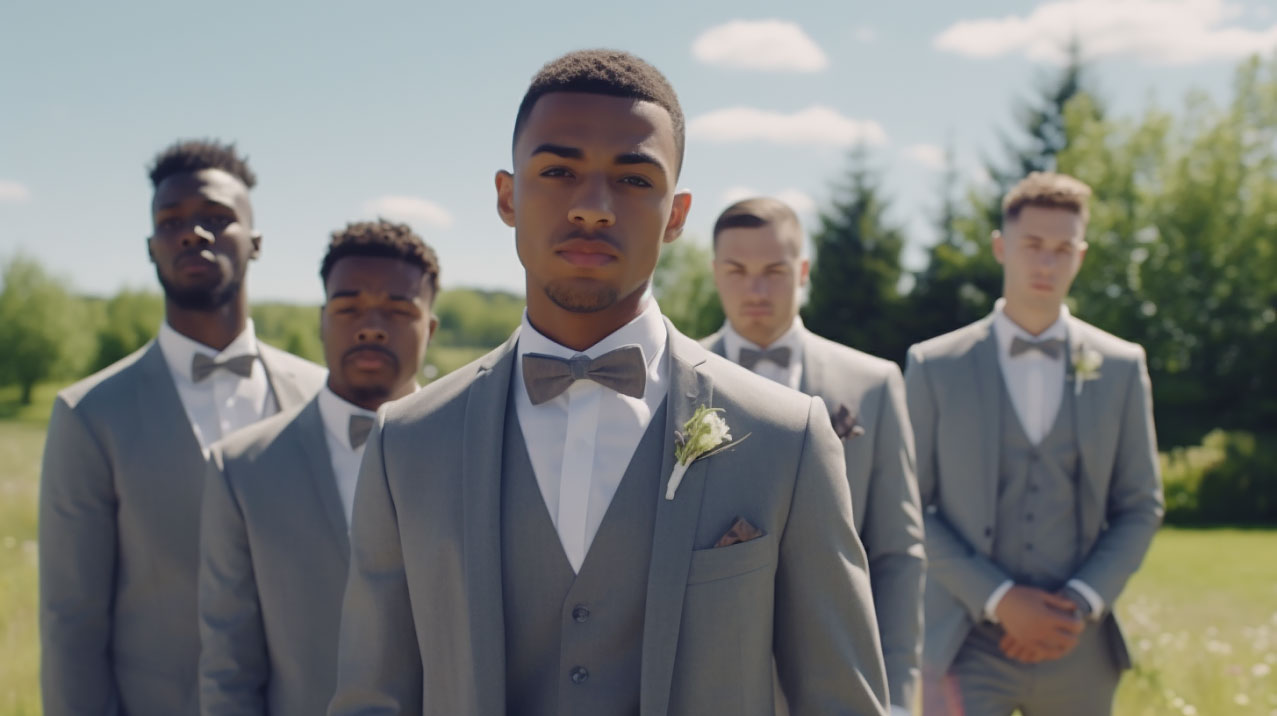 When it comes to timeless elegance and making a statement, grey and charcoal suits are unbeatable. In this blog, we're focusing on the modern and fashion-forward groom who wants to stand out and make a lasting impression on his wedding day. Gone are the days of traditional black tuxedos and plain suits – today's groom is ready to embrace his individuality, take risks with fashion, and showcase his unique style. Grey color palettes offer a wide range of shades, from light to dark, allowing the groom to explore different tones and textures that truly reflect his personality. Whether he opts for a sleek and sophisticated charcoal suit or a daring and bold grey tuxedo, our goal is to empower the groom to express himself and make formal wear fun. Get ready to step up your wedding attire and let your individuality shine on your special day.
Charcoal Wedding Suits: Timeless Sophistication for the Modern Groom
A charcoal wedding suit is a classic choice for a formal dress code. Not only is it a great option for weddings, but it's also a staple color every man should have in his wardrobe. From elegant black-tie affairs to contemporary outdoor celebrations, a charcoal suit ensures you'll look dashing and refined. Investing in a well-fitted charcoal suit or opting for a modern suit with larger lapels and a u-shaped vest will ensure you look sharp and sophisticated.
Light Grey Wedding Suits: Suits for Smart Casual Weddings
If you envision a wedding with a more relaxed atmosphere or a daytime affair, a light grey suit might be the perfect option. Embracing a more casual and chic vibe, light grey suits offer a fresh and modern twist to your wedding attire. Consider linen fabrics for spring and summer weddings, especially in outdoor settings. Embrace the resurgence of double-breasted suits, which add a touch of sophistication to your ensemble.
Charcoal and Grey Wedding Tuxedos: Redefining Formality with Style
For a more formal affair, charcoal and grey tuxedos are the way to go. Dapper grooms can opt for shawl lapels or patterns that are sure to turn heads. We cater to grooms who want to showcase their personality, so let's explore different shades of grey tuxedos and pattern options. Choose grey tuxedos with matching lapels featuring a satin trim or go for the striking contrast of grey or charcoal tuxedos with a black lapel. Don't be afraid to incorporate patterns for added flair.
The bottom line: Grey and charcoal wedding suits and tuxedos offer endless possibilities for the fashion-forward groom. Whether you choose a classic charcoal suit, a light grey ensemble for a touch of unconventional style, or a statement-making grey tuxedo, these options will ensure you look your best on your special day. Embrace individuality, take risks with fashion, and make formal wear fun.