Five Groom Suit Trends for Weddings in 2024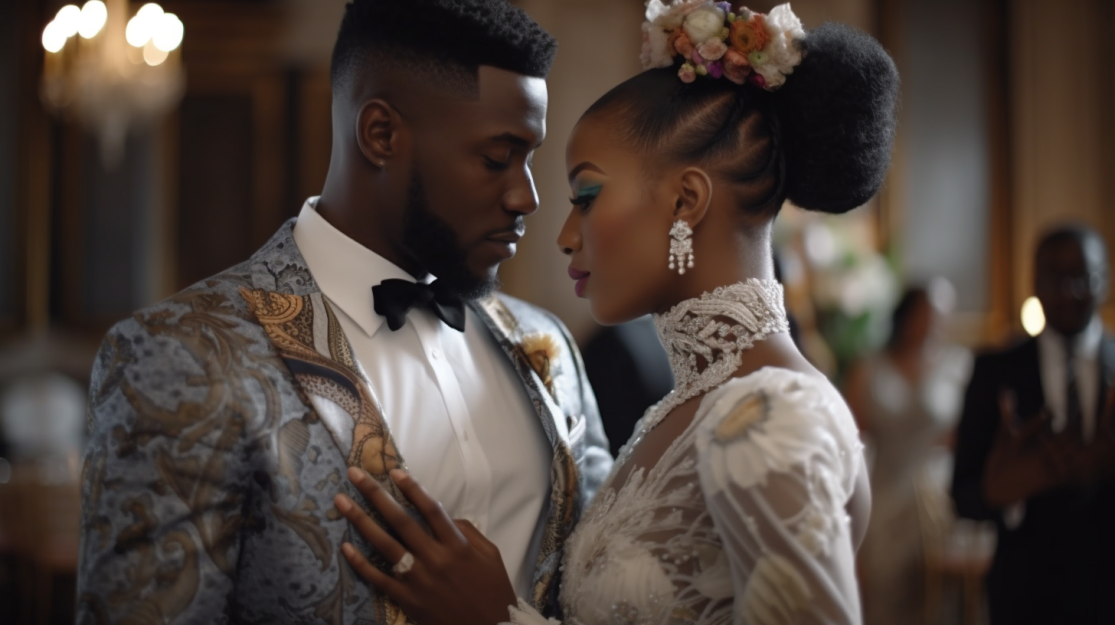 Welcome to the ultimate guide for the modern groom who wants to make a bold statement on his wedding day. This blog is not for the traditionalist; we're here to empower you to take risks and embrace your individuality. Because after all, it's your wedding too, and your style should shine just as brightly. Get ready to explore the top five groom suit trends for 2024 that will have you looking dapper, confident, and fashion-forward.
Black Tux: Stepping Up the Tradition
If you're leaning towards a more "traditional" look, let's elevate it to new heights. We have four featured suggestions to add that extra touch of style and panache:
Large Lapels: When it comes to elevating the traditional black tuxedo, large lapels are a game-changer. These broad lapels add a touch of modernity and flair to your ensemble. They draw attention to your chest area, creating a confident and stylish look. Large lapels are perfect for grooms who want to make a bold statement and stand out from the crowd. Whether you opt for a peak lapel or a shawl collar, embracing this trend will instantly elevate your black tuxedo to new heights of fashion-forward sophistication.
U-Shaped Vests: If you're looking for a unique and fashion-forward element to enhance your black tuxedo, consider a U-shaped vest. This stylish variation of the traditional vest adds a modern twist to your wedding attire. When you take off your jacket during the reception or after-party, the U-shaped vest becomes a standalone fashion statement, making you the center of attention. It's the perfect way to redefine elegance and showcase your individual style.
Black Velvet Tuxedo Jacket: When it comes to making a memorable entrance, nothing beats the sleek and sophisticated appeal of a black velvet tuxedo jacket. Velvet adds this incredible texture and depth to your outfit, making you look like a million bucks. It's like wearing sophistication on your sleeves, literally! The black velvet tuxedo jacket is a statement piece that combines timeless elegance with a modern twist.
Tone on Tone Patterns: For those who appreciate the subtlety of patterns but want to maintain a refined and sophisticated appearance, tone-on-tone patterns are the way to go. These patterns feature subtle variations in shade or texture that create depth and visual interest without overpowering your overall look. They allow you to express your personal style while staying true to the timeless nature of the black-tie dress code.
Be Bold with Color
The modern groom knows that a tuxedo doesn't always have to be black and white. Dare to make a statement with bold colors and patterns that reflect your personality with a fashion tuxedo. Consider alternatives to the classic black tux, such as midnight blue, which exudes a timeless charm. Explore rich hues like burgundy, shades of grey, earthy greens, or even a crisp ivory ensemble to stand out from the crowd.
Patterns: Embracing Confidence
In our showroom, we've had countless clients who were initially hesitant about trying patterned tuxedos. But let me tell you, once they put one on, they feel an instant surge of confidence. Floral and paisley patterns are excellent choices for the groom who wants to make a memorable entrance. Embrace the unexpected and let your style speak volumes.
Modern Suits: The Power of a Well-Fitted Look
Sometimes, a well-fitted suit is all you need to make a statement. The key is finding the perfect fit, which is often compromised when renting instead of buying. Don't settle for less on your big day. I'm very excited about colors like deep green, light brown, burgundy, or timeless navy. With the right fit and color, you'll exude confidence and charm.
Don't Forget to Accessorize
To truly complete your wedding look, don't overlook the power of accessories. Make a statement with cufflinks that reflect your personal style. Consider elegant tuxedo studs to add a touch of sophistication to your attire. Choose the perfect pair of fashionable loafers that complement your suit or tuxedo. And don't forget a sleek tuxedo shirt that enhances your overall ensemble.
The bottom line: This is the year to push the boundaries and embrace your individuality as a groom. Whether you choose a black tux with modern twists, experiment with bold colors and patterns, opt for a well-fitted suit in an exciting shade, or accessorize to perfection, the key is to make a statement and feel confident on your wedding day. This is your moment to leave your mark and redefine groom fashion. Step into the future with style and elegance, and let your individuality shine down the aisle.