Fall Wedding Suit Trends for the Modern Groom in 2024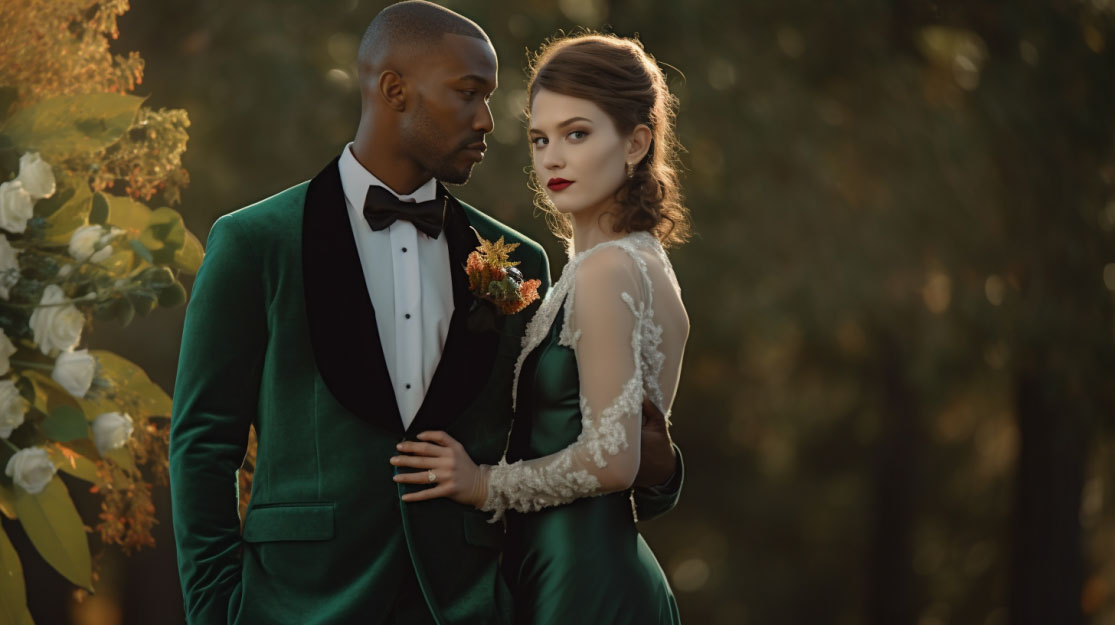 As we embrace the fall season, it's time to swap linens and pastels for rich fall fabrics and colors. Join us on this style journey where we go beyond the traditional, offering a range of fashionable choices that will leave you inspired and ready to make a statement on your special day. Fall has never looked so stylish, so let's dive into the trends that will redefine groom fashion this season.
Embrace the Elegance of Burgundy
Burgundy remains a perennial favorite for fall weddings. Opt for a well-fitted 3-piece suit, a burgundy tuxedo with unique lapel details, or a fashionable patterned tuxedo in burgundy for a distinct and stylish choice.
Fall Allure with Velvets
Velvet is the epitome of luxury and is perfect for fall and cocktail weddings. Explore rich shades like burgundy and deep navy. Complete your look with a velvet bow tie and consider a velvet tuxedo jacket for a dapper black-tie ensemble.
Fall Color Suits
In fall, three colors stand out:
Navy: As one of the boldest colors for fall, navy suits hold a special place in wedding color schemes. Its timeless appeal and versatility make it a popular choice among groomsmen. Pair navy with other hues like burgundy, pink, or gold to create a captivating color combination that exudes sophistication and style.

Green: Dark, emerald green is an excellent option for a fall wedding suit. This rich and luxurious color adds depth and elegance to your ensemble, perfectly capturing the essence of the season. Whether you opt for a classic green suit or incorporate green accents into your accessories, it's a captivating choice that will make you stand out.
Brown: Brown is a warm and inviting color that complements the autumnal ambiance. With various shades available, from mocha to chocolate to light brown, you can select the tone that best suits your style and wedding theme. A brown suit creates a solid foundation for your wedding decor, conveying a sense of earthiness and sophistication.
Classic Tuxedo or a Splash of Color
When it comes to fall weddings, you can never go wrong with a classic black tuxedo. However, if you're looking to infuse some personality and embrace the fall color palette, consider tuxedos with a twist.

Tuxedos offer a more formal and refined look compared to suits, making them an ideal choice for special occasions. To complete the fall look, tuxedos come in a range of colors that you would typically find in suits. Forest green, burgundy, and grey are popular options that exude a sense of autumnal charm.
Opting for a colored tuxedo allows you to stand out and make a bold statement while still maintaining a formal appearance. Consider tuxedos made from luxurious fabrics like velvet, which adds texture and depth to your ensemble. Explore paisley patterns or unique designs that showcase your individuality and fashion-forward sensibilities.
The bottom line: Fall weddings present an opportunity to showcase your fashion-forward style. Embrace the richness of burgundy, the luxury of velvet, and the versatility of fall colors. Whether you opt for a classic tuxedo or infuse it with color, Perfect Tux has the perfect options to make your wedding attire a standout expression of your personal style.