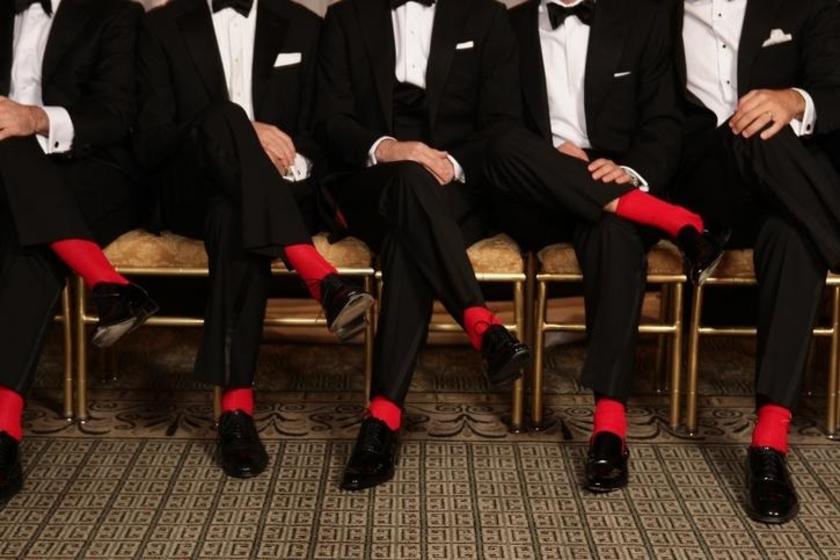 This is a story of longing. Of passion. Of wool. This is the story of one of the most criminally underappreciated and forgotten articles in the repertoire of fine dress: the sock.
Now. Refrain from laughing, hold back your giggles, but the sock - even though rarely seen is the center-point to your look; and though usually, ensconced somewhere between shoes and pants, is still an important part of your wardrobe. And believe it or not, if worn incorrectly, it can sour an entire look.
Why? Because when evening attire goes wrong, it can go REALLY wrong. Formal trousers in essence shouldn't have much of a break at the bottom. However, when you sit down, the ankles can become exposed. It's actually important that your ankles don't betray an otherwise neat and put together look. Here are a list of some helpful rules of sock: 
Rule of Sock #1: Actually wear socks. I know, I know, sometimes you want to feel the freedom of soul against sole. It can be tempting to forego the whole sock option all together.  But trust me guys, even though there are always those rare exceptions, for the most part, this does not work.
Rule of Sock #2: Wear Black/Dark colored socks. Nothing can throw off your look like white socks peeking out from under a Black Tie ensemble.
Exception to the Rule of Sock #2: If you are wearing a tuxedo that isn't Navy, Black, or Grey, try finding formal hosiery in the same color (i.e. white,ivory, brown, etc.)
Rule of Sock #3: Wear formal socks. Formal socks are thin, light and stretchy, and come up to mid/high shin. This is also referred to as formal men's hosiery. Thicker socks aren't formal.
.     .     .     .     .     .     .     .     .     .     .     .     .     .     .     .     .     .     .     .     .     .     .     .     .     .     .     .     .
All of these details serve the same purpose. When you dress up, you want to make sure that you put your best foot forward (see what I did there?). You also want to look savvy and suave, while doing it. It's through the correct execution of these little details that you can complete your formal ensemble and show the world that you know what you are doing in the realm of formal wear. With a little attention to the small details, you can transform a tuxedo from a form fitting outfit, to a veritable weapon of dapper destruction.
So, next time you peek in your drawer to grab a sock take a moment to reflect. The sock has a whole story worth telling.