How to Perfect the Look of the Cummerbund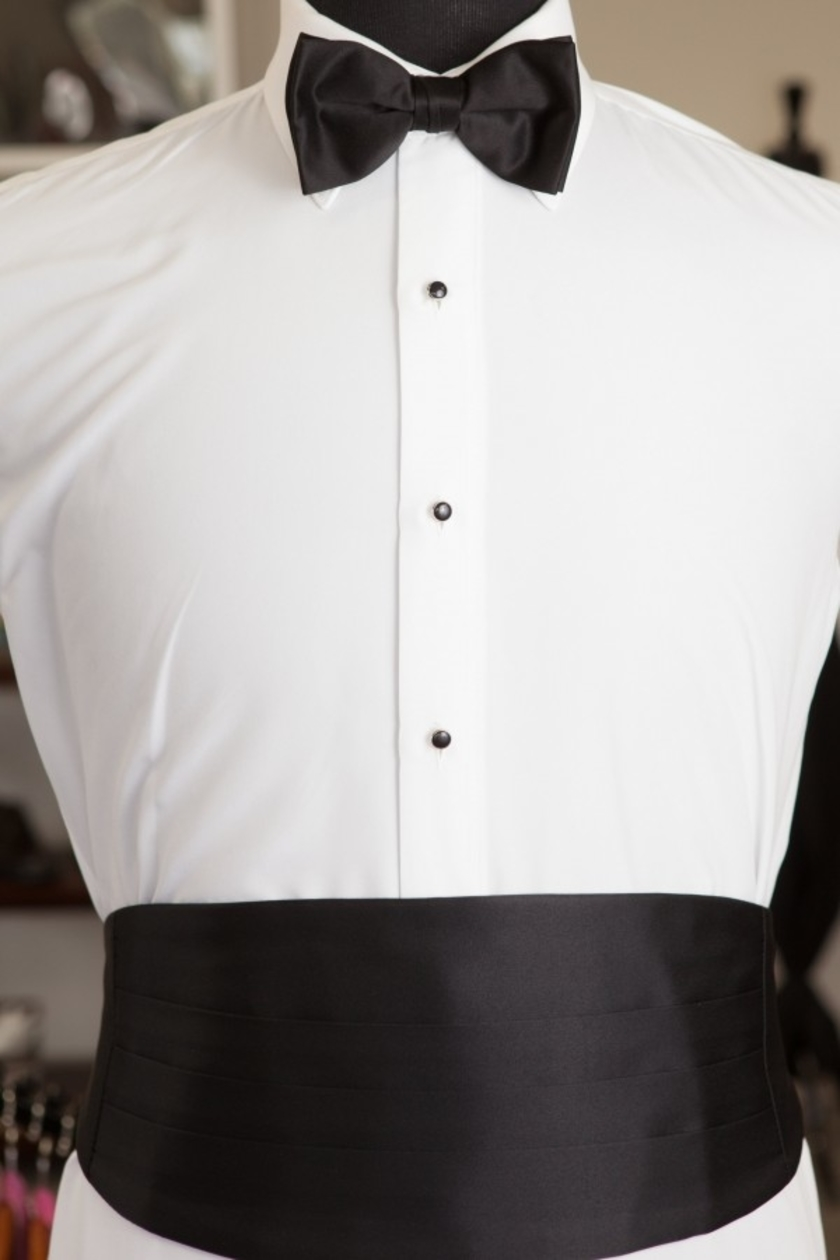 When you are invited to a wedding, your outfit speaks volumes about your sensibility. Learn how you can properly accessorize your tuxedo with a cummerbund, to give your look the stylish twist that it needs to POP.
It's no secret that the cummerbund and black tie go way back to the essentials of evening dress attire. Not only does it allow for a very neat and orderly appearance, it helps to prevent food and drink spillages on the front of the shirt, and helps to keep any unsightly bulges tucked away and hidden. But wearing a a cummerbund can be stressful endeavor when you're not exactly sure: When? How? And why to wear one? And at the Perfect Tuxedo we understand that details... details... details are key in making the right choice for evening attire.
One of the first things to remember is to avoid bright colors unless an event absolutely requires it. The cummerbund has to match the colors of the bridesmaids' dresses, in which case a brightly colored cummerbund, if applicable to the wedding theme,  is okay. But other than that, stick to colors that have darker or grey tones and hues, avoid the primary colors with lighter sensibilities at all costs. While Joseph had his techni-colored dream coat, a techni-colored Cummerbund might only draw the wrong attention at a swanky, evening-attire event.
Surprisingly, not many people know exactly what a cummerbund is, or why they should wear it. Although cummerbunds have been around for ages, the modern reason for wearing one has been lost to the annals of style and fashion. However, One of the age-old principles of a successful tuxedo is that all the working parts must be covered or dressed. This is why it's so important to use your cummerbund to cover your waist area, where your shirt can bunch quite awkwardly at times.
How to Properly Wear the Cummerbund:
It may seem that there is only one way to wear a cummerbund, across the midsection, like a sash; but, there are actually a number of ways it can wrong. You should ALWAYS wear your cummerbund with the pleats facing upward to cover your waist area. This means that your trousers should be worn around the level of the navel, with half of the cummerbund covering both shirt and trousers.
If you wear your cummerbund too high or too low it can give an unkempt and unsightly appearance. The cummerbund should compliment your bowtie, not only in terms of color but the fabric of both should be similar as well.
Remember that a cummerbund is for evening events only. It's very formal, so you want to keep its use to very formal occasions and your fanciest events.
The Benefits of the Cummerbund
People tend to have forgotten about the benefits of the Cummerbund, as a fashion "must have" instead of a fashion "saving grace". Here is a simple list of benefits you may not have know about:
If worn correctly with the pleats facing upward, it serves as a crumb catcher. No, really, this lesson was first put into practice by the British military who gave it its great nickname that has still stuck with it to this day.
Cummerbunds can elongate the natural form giving a man a more tall and slender appearance. Great for those men who really want those waistlines to say flat and unrounded.
These days, cummerbunds are a great option to wear if you have to add a specific color to your tuxedo. As discussed prior, this item can really give you the color you need to match the theme and color palette of your wedding party.
Cummerbunds are a great accessory for formal wear and they help to add some style and panache to an outfit that may sorely need an extra twist. You can use it to inject some color into your tuxedo arrangement, or simply add an extra pocket to the front of your outfit for those times when those munch-ables munch back. It has been part of the tuxedo for many years and it is the perfect accessory to make for a perfect evening.