How to Beat the Summer Heat and Keep Your Wedding Chic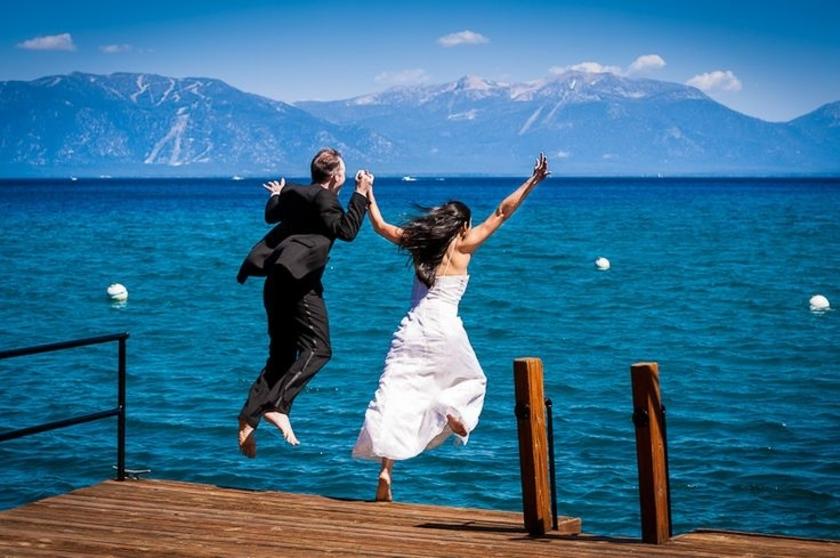 Summer is here and the temperatures are slowly rising.
Good thing you decided to get married in the summer heat, everyone grumbles with enough discontent to cause alarm. 
While it is true that the unbearable heat can put more than just a very warm and clammy strain on the wedding ceremony; it can present a very real and present danger of heat stroke, exhaustion, and dehydration, things that don't bode well for a happy honeymoon. 
 Let's challenge this scenario and keep everyone at your wedding cool and safe with these quick tips to battle the dreadful heat.
View the Venue 
If said it once and I will say it again, it is beyond important to know your venue! If the wedding is outdoors, don't just rely on the wedding planners' "good judgment", scout out exactly where the venue will be held. If the ceremony will be held out in the open where direct sunlight will be beaming down, plan ahead, and order a canopy to aid in beating the heat.
Check the time of day the ceremony will be held to see if there will be any cool shade to provide cover. One way to keep everyone shaded is to set up a tent or pavilion area with hanging shades. Keeping the tables and chairs shaded will help your guests beat the heat but keep bottoms in seats.
If your venue will be indoors, make sure the air conditioning is functioning the day of the wedding.
What can go wrong will go wrong, allow Murphy's Law to be your guide, so check, check, check! 
Another tool for staying cool and breezy would be to provide personalized fans for everyone at their seats. Not only is it functional but it'll be a nice keep sake to remember the occasion. Also, take advantage of natural shade and natural water sources. If you're by a beach or pool, tell guests that they are more than welcome to soak their toes after the ceremony. If budget permits, invest in misting machines or kits to incorporate into the venue to keep everyone outdoors cooled but not drenched.
Pick Your Clothing Wisely  
Choosing the correct attire for the bridal party is another integral step in avoiding the heat. Specifically, its best to choose coat and pant fabric combinations that are breathable. Instead of black, go for a lighter shade: a grey, or a tan, to stay cooler while looking extra fashionable.
The major way to retain tip-top dress sense while avoiding the heat is for the men to wear vests with their tuxedos or suits. I know this suggestion may sound a bit odd,  but think about it: as soon as the "I do's" are said and the pictures are taken, the guys are going to scramble to take off their coats. Wearing vests will still give them a finished look while allowing them the ease of not having to put their coat back on every time a picture is needed. 
Another area of clothing to focus on for a hot summer wedding is the shirt and undershirt. We suggest a very thin all cotton undershirt or tank top. A common problem for many guys is the messy underarm sweat that condemns them to a night of uncomfortable "pit patting" and stuffing. Some guys are more prone to profusive sweat than others. However, for those guys I recommend asking us, at the Perfect Tux,  for an extra dress shirt to change out halfway through the event.
In addition, carry a new, clean, all cotton or linen handkerchief at all times to clean up any sweat. It's also a very gentlemanly gesture to offer a teary eyed lady a handkerchief.
Time to Bring out your Inner Foddie 
Offering food that won't contribute to the heat can be a bonus. BBQ, while the epitomite summer food, can be very messy and heavy. Think long term and un-bloated with foods such as salads, sushi, and sliced fruit. Make sure they are served on ice cold trays to keep them fresh and cold longer.
Consider hiring someone to make ice cream at the wedding as a sweet cold treat. Another way to keep everyone cooler will be to store several ice chests around the venue full of water and other refreshments. Also, include frozen drinks and nonalcoholic drinks into the bar menu such as pina colada, strawberry daiquiri, sodas, and sparkling apple cider. 

When beating the heat at your wedding, the venue and ceremony location are significant factors. Take advantage of natural shade, while placing canopies where necessary. Check that the air conditioning is working ahead of time, and rent an air conditioning unit if needed. Choose lighter shades of fabric for the tuxedos instead of the common black. Serve cool foods at the reception and add frozen drinks to the bar menu.
Hope this helps you stay cool and enjoy more of your summer wedding.