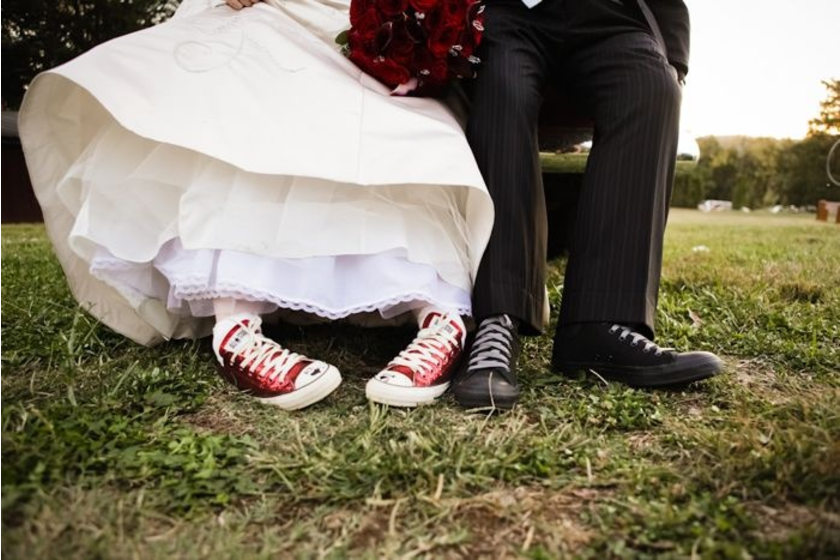 You can feel the bated breath in the air. Phones are poised at the ready. And all eyes are upon the happy couple getting ready to walk down the aisle to say "I do". This moment, or moment(s), define the wedding and will be the thing that everyone takes away once the ceremony has ended. So making sure that both the bride and groom are both a sight worth remembering is very important.
It is no secret that the bride is supposed to be a beauty unparalleled at the wedding, but many times, people forget that the groom is more than just a figure stand. It is easy for the groom to become relegated to "ring bearer" and "I thee wed" sayer, but the grooms position is much more important than a mannequin.
His job, besides slipping on the ring and a kiss, is to compliment the bride's appearance on the wedding day; The groom's attire is more than a juxtaposition to his bride but an extension of both of their individual tastes and the union of both.
So when planning his wedding attire, it is important that the groom knows the color of his bride's dress. He does not have to match the dress color exactly but a color clash would be problematic. A popular way to do this is by wearing a black tuxedo with accessory colors coordinating with the bride's dress color. The accessories can be anything from the vest, to the tie/bowtie, or even a pocket square.
Location can also influence the tuxedo choice for the groom. An outdoor wedding typically has a more relaxed feel and the groom's attire should reflect that theme. Lighter colors that present a more "earthy" look are better suited to these locations. Beach weddings, popular for the destination wedding crowd, are better suited with the tan or lighter grey; as opposed to a darker look. 
Season of the wedding also makes a world of difference, as spring and summer months tend to be popular times for weddings. Lighter colored tuxedos are more prevalent during these months as well, so it would be of note to think carefully before choosing an outfit for what season. Colors that are grey, tan, and blue  are very season appropriate. During the spring and summer months sweltering weather can put a real kibosh on the black tuxedo look. Trust me, nothing can ruin the magic and fun of a wedding quite as much as the sight of a groom and his groomsmen overheating. Please choose wisely
Selecting the perfect tuxedo or suit for the wedding day is not a monumental task. Just remember that before heading to the altar, consider the bride's dress color in association to the groom's attire. Be conscious of the venue location, and season of the wedding, when choosing the attire for the guys.
Incorporating these tips into the groom's appearance should ensure a joyous and gorgeous ceremony.